We've just released several awesome improvements to our Entitlements and Metrics API endpoints in our quest to strive for API nirvana.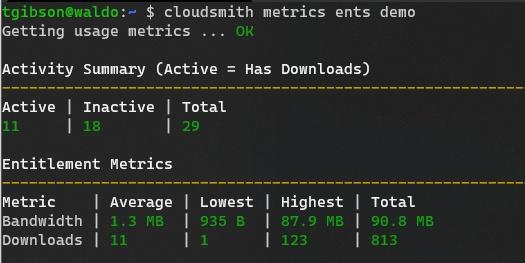 First up - at the request of many of our users, we now extended token lookup in the Entitlements API to resolve tokens by name and by token content. Historically users would have to make an API call to retrieve the Cloudsmith identifier of a token prior - but no more! Fewer calls, time saved, much happiness.
Next, our Metrics API. We've smoothed over the cracks here, bringing perfect 20/20 alignment to the Package Metrics API and the Entitlement Metrics API. Both these endpoints now provide bandwidth and downloads (and, of course, configurable with a timespan). Additionally, we now return a single dictionary response for these APIs instead of a list with a single dictionary.
This does mean there are some changes here that may alter your workflows. We've bumped the versions of our bindings and CLI to accommodate these improvements - a one and done way of getting these, for python:
pip install --upgrade cloudsmith_api cloudsmith_cli
Last (but by no means least) - we now support the ability to configure the visibility of the package statistics within a repository. Want to tighten access to administrators only in a valorous quest for privacy? We're here to help with that. This setting is now available in the Main Settings section of all repositories.
Happy Tuesday! <3 from the Cloudsmith Team.